Friday, August 22, 2014
Please Subscribe to this blog by Email, View in your Reader or NetworkedBlogs, Like my Page www.Facebook.com/lizardmarsh, or Follow twitter.com/lizardmarsh
Thursday, August 21, 2014
From:
c pq
<cpqcpq6@yahoo.com>
Date: Thu, Aug 21, 2014 at 4:13 PM
Subject: McDonough, GA - Seven kittens found in parking lot. Need REsCuE!
To: "C. Pq" <
cpqcpq6@yahoo.com
>
contact:
Jason
770-899-6585
(see more pictures at:
7 Kittens
)
These adorable seven kittens were dumped in a hotel parking lot. The guy that found them works night shift there. They weren't there when he got to work, but he found them a little while later when he went out in the parking lot area in the dark.
He is not equipped to handle this situation, cannot keep them, and is begging for help.
If anyone can take them, please contact
:
Jason
770-899-6585
Wednesday, August 20, 2014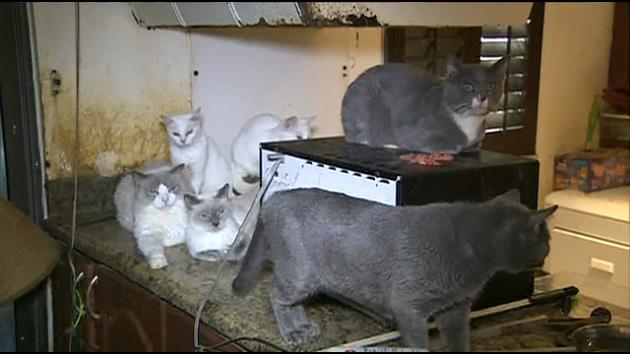 Date: Wed, Aug 20, 2014 at 3:20 PM
Subject: Miami Lakes, FL: WSVN Report, Elderly Owner Died Leaving Nearly 50 Cats Needing Homes!
To:
Date: Wed, Aug 20, 2014 at 1:19 PM
Subject: Fw: WSVN Report
To:
Please share with anyone you know who might be able to help.
Thank you for caring!
Bernie
MIAMI LAKES, Fla. (WSVN) -- A South Florida elderly woman passed away nearly two weeks ago but left behind nearly 50 cats who are now in need of new homes.
According to Pet Partners Rescue Home, the house where the animals were found is in deplorable condition, but the cats are in better shape than expected. "They're scared," said Bernie Alfonso of Pet Partners Rescue Home. "They don't know what's going on. They just know something drastically has changed, and they're the ones that are paying the consequences for it."
Shredded furniture, layers of cat hair and unclean litter boxes are all throughout the home. "They [the cats] shouldn't be living in conditions like this," said Alfonso. "No animal deserves to live like this."
Unfortunately, the 69-year-old woman could not care for them due to her ailing age and disease, and now there are almost 50 cats with nowhere to go. "Some people may have very good intentions but part of the intentions are also with animals, especially with cats, requires for them to be spade and neutered, and that's where I believe she dropped the ball," said Alfonso. "I would say that most of these cats are siblings."
The house is being cleaned out, and the rescue organization only has two days to find homes for these cats before they are placed into a shelter. "She had no family down here in Miami, no real close friends," said Jackie Bowden, the lawyer for the owner's estate.
The cats have until Saturday to find new homes. If not, an animal removal company will come in and get them out. "We're doing our best to fulfill her wishes," said Bowden. "We knew how much she loved her cats, and we're just trying to make sure that they get a safe home."
Alfonso said the cats simply need to be in a trustworthy environment. "They're lacking trust, and once that trust is developed, these animals will make wonderful pets," he said. "They're victims. That's what they are. They're victims."
For more information or if you are interested in taking one or some of the cats, contact:
OK TO
CROSS POST TO RESCUE NETWORKS....PLEASE DO NOT POST TO CRAIGS LIST
Click on the links and the dogs pictures will appear. Mouse-over the individual pictures and the dogs cage card information will appear. Click on the individual pictures and the they will redisplay larger. When you have a picture displayed large you can see the rest of them displayed large in slide-show format by clicking the "next" button at the top of the picture. The cage card info will appear under the pictures.
This is a link to a summary of those no longer at the shelter due rescue,adoption, reclaim or euthanasia since the previous update:
Irving Shelter Telephone:
The Shelter Hours: Tuesday through
Friday 11:00am to 6:00pm
.
Saturday 10:00am to 5:00pm
Closed Sunday and Monday
Elsa says 8/19 they are all still with her. Please contact her to adopt or rescue one or more of the trio.
On Wed, Aug 13, 2014 at 11:37 AM,
<caucayaa@gmail.com>
wrote:
Hello all.
I have been asking help for these cuties for so long...Patches and Aramis and both suffer chronic respiratory diseases.
I must place them in new homes because I CANNOT AFFORD their treatment. They get better and go back to not being well and I have other animals to take care of. I am unemployed and constantly battling depression; I am in an emotional roller coaster and sometimes even getting out of bed is a struggle.
Please help me find them homes with good people who can pay for their meds; I know is difficult but not impossible.
I don't know where many of you are but you can help by spreading the word. Please forward this mail
Thanks
********************************************
June 5th, 2014 POST
Patches is about 6, a stray I adopted; neutered. He has stomatitis on his mouth and also sinusitis, all recently treated. Very loving and tame.
Aramis is
6, neutered and fully vetted. He has a chronic sinusitis and just had a treatment that made him a lot better. He is sweet and shy
---- Forwarded message ----
From: <caucayaa@gmail.com>
Date: Thu, Jun 5, 2014 at 7:16 AM
Subject: Bloomfield, NJ 3 cats to be rehomed
To:
Hi, I still need help relocating cats. My husband wants to downsize and I must find homes for my babies. Please help me!
We are in Bloomfield NJ
This is Aramis. He is 6, neutered and fully vetted. He has a chronic sinusitis and just had a treatment that made him a lot better. He is sweet and shy
Amelie is a "dry girl" she does not like wye food. She is adorable and in perfect health, spayed
Patches is about 6, a stray I adopted; neutered. He has stomatitis on his mouth and also sinusitis, all recently treated. Very loving and tame
Elsa Latheef