Situation still urgent.
If you can take some cats, contact Bernie and/or Mindy.
The first transport left Miami today
.
Many more cats to go.
FUNDS REQUIRED!!!
Please follow
https://www.facebook.com/Undercats4Life
for latest bulletins! Thanks to all who are helping these kitties.
********************************************
8/20/14 POST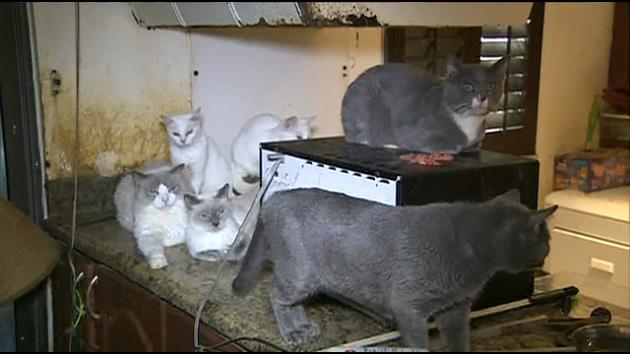 Date: Wed, Aug 20, 2014 at 3:20 PM
Subject: Miami Lakes, FL: WSVN Report, Elderly Owner Died Leaving Nearly 50 Cats Needing Homes!
To:
Date: Wed, Aug 20, 2014 at 1:19 PM
Subject: Fw: WSVN Report
To:
Please share with anyone you know who might be able to help.
Thank you for caring!
Bernie
MIAMI LAKES, Fla. (WSVN) -- A South Florida elderly woman passed away nearly two weeks ago but left behind nearly 50 cats who are now in need of new homes.
According to Pet Partners Rescue Home, the house where the animals were found is in deplorable condition, but the cats are in better shape than expected. "They're scared," said Bernie Alfonso of Pet Partners Rescue Home. "They don't know what's going on. They just know something drastically has changed, and they're the ones that are paying the consequences for it."
Shredded furniture, layers of cat hair and unclean litter boxes are all throughout the home. "They [the cats] shouldn't be living in conditions like this," said Alfonso. "No animal deserves to live like this."
Unfortunately, the 69-year-old woman could not care for them due to her ailing age and disease, and now there are almost 50 cats with nowhere to go. "Some people may have very good intentions but part of the intentions are also with animals, especially with cats, requires for them to be spade and neutered, and that's where I believe she dropped the ball," said Alfonso. "I would say that most of these cats are siblings."
The house is being cleaned out, and the rescue organization only has two days to find homes for these cats before they are placed into a shelter. "She had no family down here in Miami, no real close friends," said Jackie Bowden, the lawyer for the owner's estate.
The cats have until Saturday to find new homes. If not, an animal removal company will come in and get them out. "We're doing our best to fulfill her wishes," said Bowden. "We knew how much she loved her cats, and we're just trying to make sure that they get a safe home."
Alfonso said the cats simply need to be in a trustworthy environment. "They're lacking trust, and once that trust is developed, these animals will make wonderful pets," he said. "They're victims. That's what they are. They're victims."
For more information or if you are interested in taking one or some of the cats, contact: